SMART EXCHANGE 450units in japan
The SMART EXCHANGE machines are in about 450 locations throughout Japan.
Around 1,000,000 people exchanged their money with our currency exchange machines.
They are installed at airports, train stations, high-class shrines, hotels, etc. because of its high reliability. Users can find the closest Smart Exchange from our website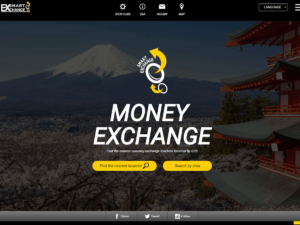 "SMART EXCHANGE GPS Navigator"
Example of installation place
First Avenue Tokyo Station Tax-Free Counter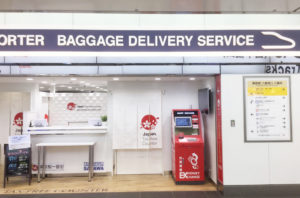 The duty free counter in "Ichibancho", Tokyo Station.
Here you can find a variety of shops such as those offering souvenirs from Tokyo, figurines, Japanese sweets, Western styled cakes, animations.
You can also find cafes, fashion shops and stores that sell other miscellaneous goods.
1-9-1, Marunouchi, Chiyoda-ku, Tokyo, 100-0005
https://smartexchange.jp/map/845/
Haneda Airport International Terminal Station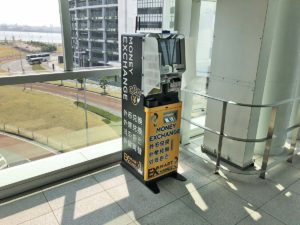 The station is located inside the Haneda International Airport.
The layout of the station is very easy to understand with clear signs, information boards and attendants always eager to assist travelers. In addition, there is Wi-Fi available which you can use for free.
Haneda Airport
2-6-5, HanedaAirport, Ota-ku, Tokyo, 1444-0041, Japan
https://smartexchange.jp/map/2664/
Heian Jingu Shrine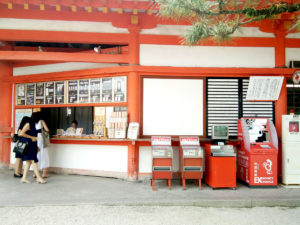 It was built when the capital was relocated from Heinakyo (today's Kyoto) to Tokyo in 1895, just about 1100 years, in Nara. Heian-Jingu built in remembrance of the Nara period to serve as the main shrine for citizens. The beautiful shrine is decorated in vermillion and provides a graceful atmosphere. Sightsee at the gardens that encircle the shine with an area of 30,000m2, marvel Alchemy, red cherry blossom tree and Iris of early summer.
Heian Jingu Shrine
Okazakinishitennocho, Sakyo-ku, Kyoto, 606-8341, Japan
https://smartexchange.jp/map/887/